Le Merigot Santa Monica Hotel
34.00876

,

-118.49214
Santa Monica

,

United States

|
330US$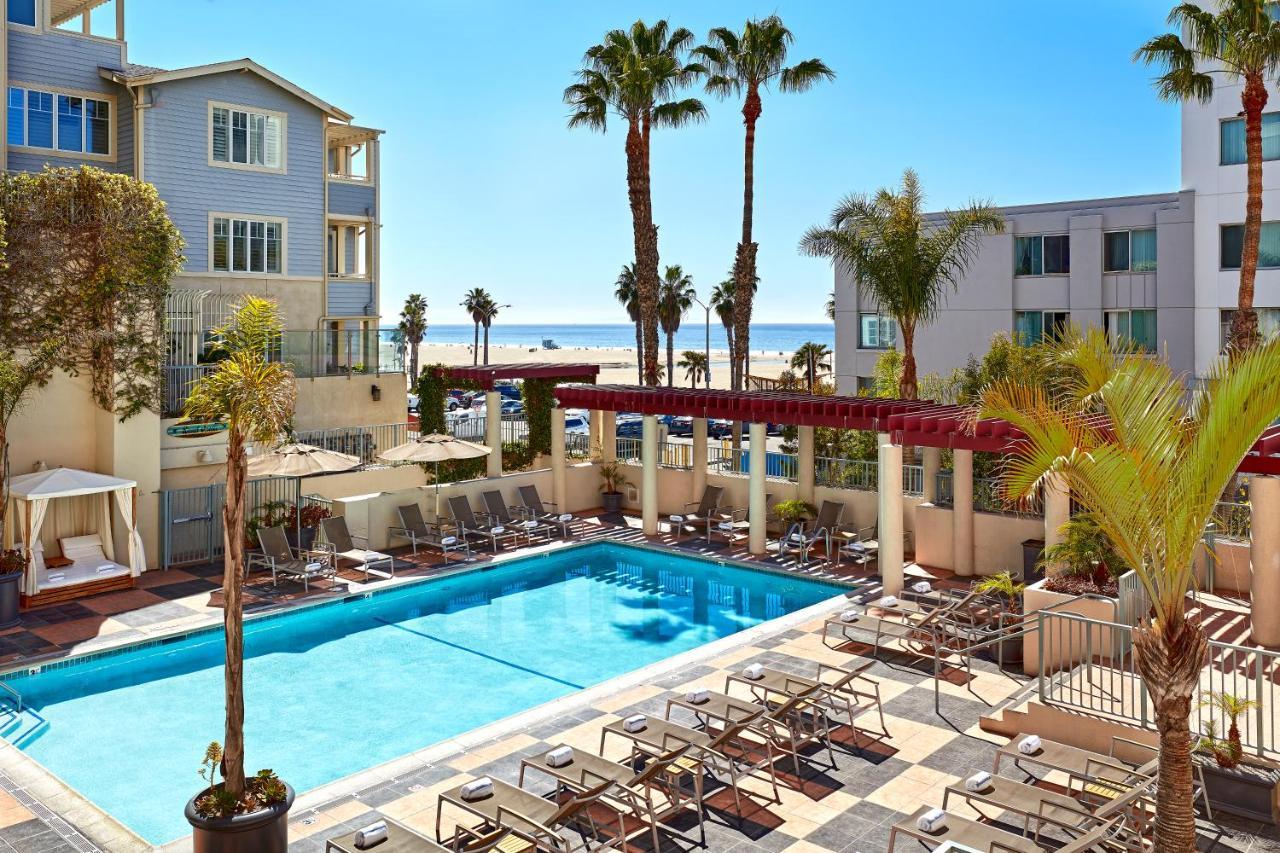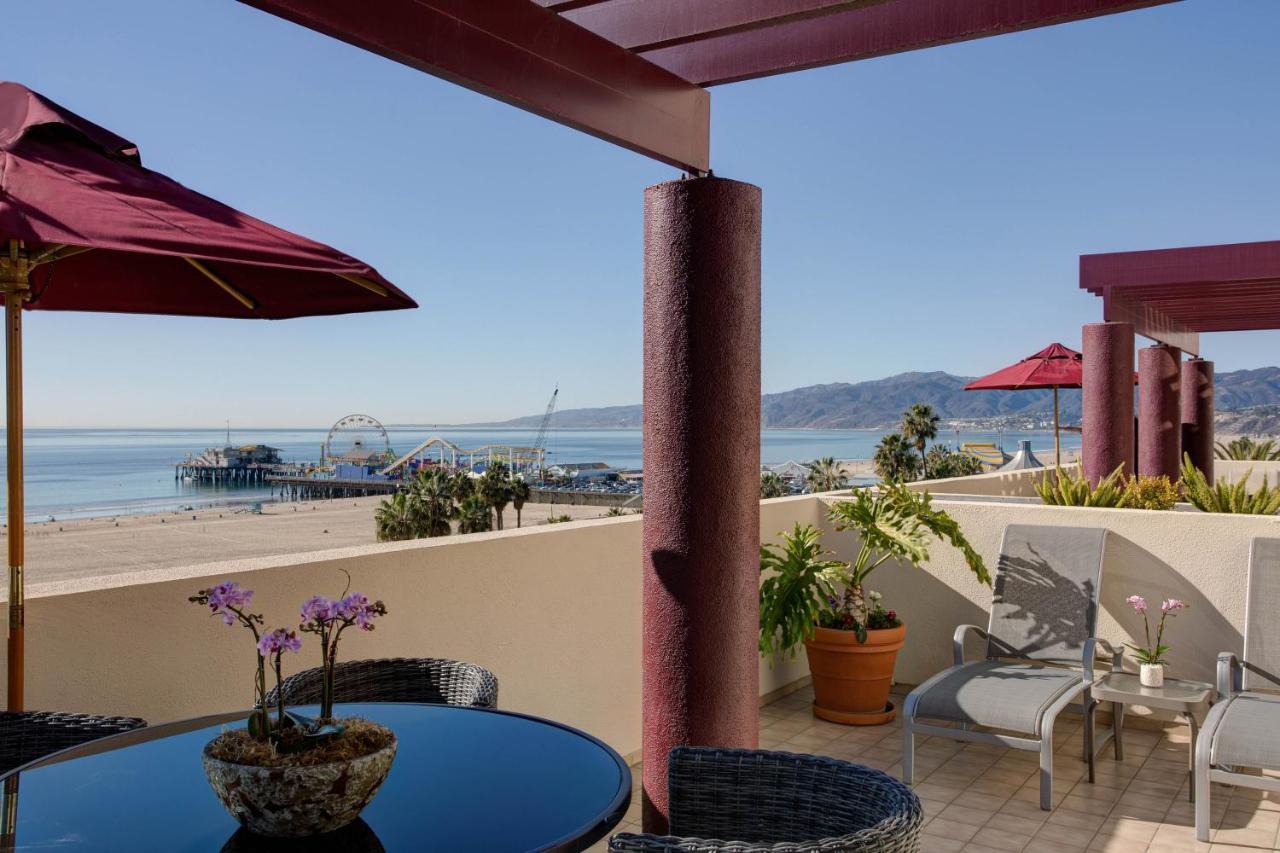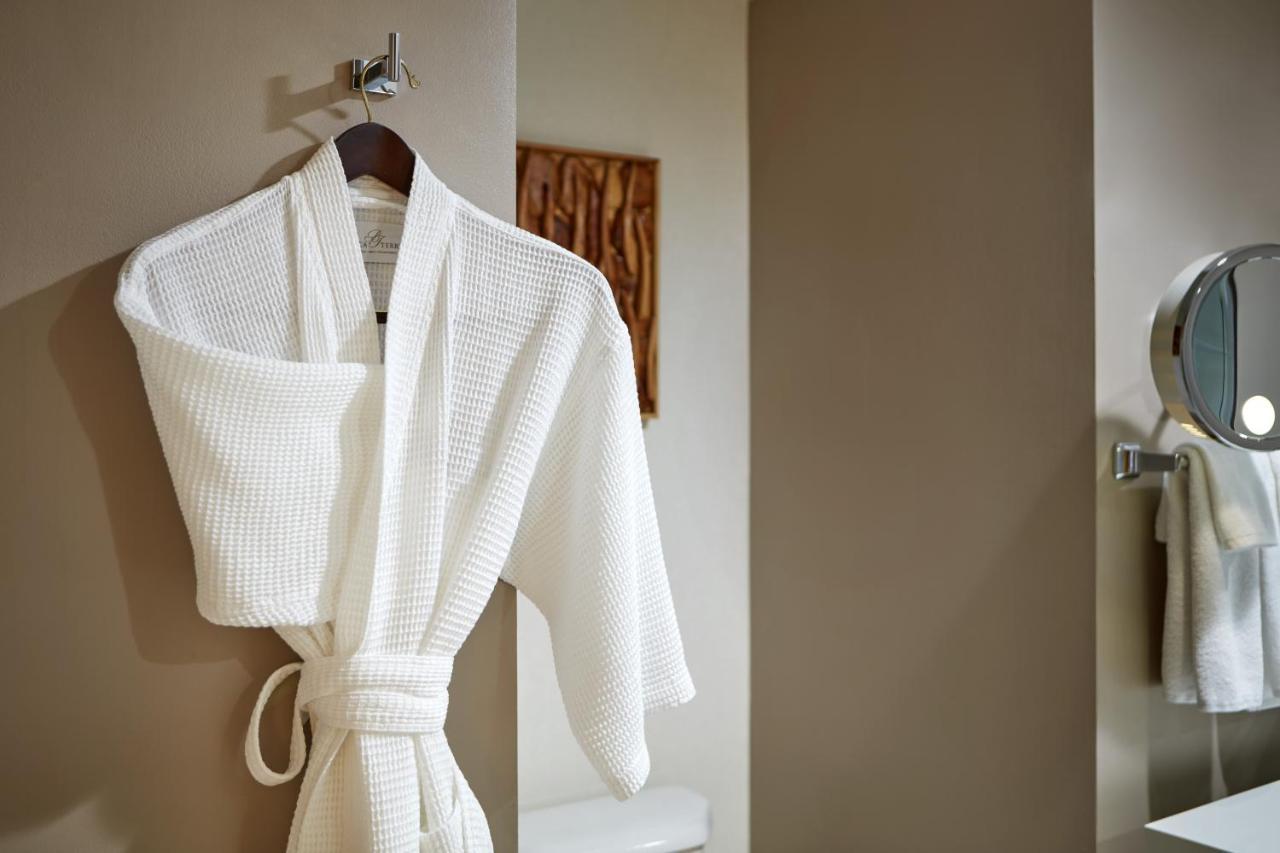 Address
1740 Ocean Avenue
,
Santa Monica
,
California
,
United States
,
90401
, California
Overview
Featuring a wellness center and full-service spa along with a solarium, sauna facilities and Turkish bath, the fantastic 4-star Le Merigot Santa Monica is situated a 7-minute walk from the large double - jointed Santa Monica Pier in Santa Monica. Located 10 minutes' drive from Abbot Kinney Boulevard, this resort comprises 175 rooms and 2 restaurants.
Location
Featuring an ideal setting, the beachfront hotel is located next to Ocean Avenue and within a 10-minute drive of Airport Park. The Le Merigot offers proximity to natural sights like the walkable Venice Beach (1.5 miles) and the adjacent Dorothy Green Park (0.7 miles). Visitors will also enjoy shopping at designer stores, gift shops and a mall, which are at the edge of this property. The area offers shopping experience such as the posh Downtown Santa Monica Shopping Center within a close distance from the excellent Le Merigot Santa Monica.
Due to a location at the edge of a tram stop, the hotel offers easy access to other parts of Santa Monica.
Rooms
The units at the oceanfront accommodation include individual climate control and a roll-away bed. Some of them comprise a balcony and a lounge area, furnished with a work desk. Guests can make use of a coffee machine, and relax with complimentary WiFi and a flat-screen TV with satellite channels. Offering sauna, the large bathrooms also include a hairdryer and complimentary toiletries. Some of these oversized rooms have views of the sea.
Eat & Drink
Le Merigot Santa Monica has a daily buffet breakfast for guests and it is served in the dining room. Cezanne, the onsite restaurant, serves American cuisine while Le Troquet Patio is boasting American specialties. The onsite bar offers handcrafted cocktails to please all tastes. The Santa Monica hotel features a café nearby, where guests can enjoy a variety of American cuisine.
You can start your day with a full breakfast, which costs US$35 per person per day. 
Internet
Wireless internet is available in the hotel rooms at USD 12.95 per day.
Guest Parking
Private parking is possible on site at USD 56 per day.
The personnel at the hotel speaks English, German, Spanish, Russian.
Year renovated:   2012.  Number of floors:   6.  Number of rooms:   173.
Former name: le merigot hotel and spa
Best-Rated Marriott Hotels, Resorts, and Suites Hotels around Santa Monica
Marriott Hotels, Resorts, and Suites is a leading brand in hospitality, offering guests luxurious comfort and unbeatable service. From spacious suites to fine dining restaurants and high-end amenities, Marriott caters to travelers seeking a touch of elegance and sophistication. With its reliable brand value and global presence, Marriott promises world-class experiences that ensure a memorable stay. Choose Marriott Hotels, Resorts, and Suites for an unforgettable travel experience.
201 reviews

152$ / night

35 reviews

309$ / night

109 reviews

139$ / night

75 reviews

269$ / night

84 reviews

169$ / night

46 reviews

212$ / night

30 reviews

179$ / night

20 reviews

165$ / night
Most Booked Hotels for Your Next Trip
Facilities
Most popular facilities
24-hour services
24-hour reception
24-hour security
Swimming pool
Outdoor swimming pool
Heated swimming pool
Private beach
Beach access
Sun loungers
Beach umbrellas
General
Paid Wi-Fi
Parking
24-hour services
Swimming pool
Air conditioning
Facilities for kids
Private beach
Sports & Fitness
Fitness center
Hiking
Horseback riding
Cycling
Golf course
Fishing
Services
Room service
Dry cleaning
Welcome drink
Dining
In-room breakfast
Restaurant
Snack bar
Bar/ Lounge area
Picnic area/ Tables
Special diet menus
Business
Meeting/ Banquet facilities
Fax/Photocopying
Facilities for people with disabilities
Spa & Leisure
Heated swimming pool
Outdoor swimming pool
Beach access
Beach umbrellas
Sun loungers
Sun terrace
Leisure/ TV room
Sauna
Steam room
Pool with view
Room features
Paid Wi-Fi in rooms
Air conditioning
Heating
In-room safe
Terrace
Garden furniture
Tea and coffee facilities
Media
Flat-screen TV
Telephone
AM/FM alarm clock
Good to know
Check-in
from 16:00-23:59
FREE
Check-out
until 11 am
FREE
Children & extra beds
There are no cribs provided in a room. 
Pets
Pets are allowed on request.
Rooms and availability

Bed options:

Max:

2 persons

Bed options:

Max:

4 persons
Sea view

Coffee machine

Air conditioning

Bed options:

Max:

4 persons
City view

Private bathroom

Balcony

Air conditioning
Location
1740 Ocean Avenue
,
Santa Monica
,
California
,
United States
,
90401
, California
City landmarks
Nearby
Restaurants
Hotels nearby
Mall
Downtown Santa Monica
3700 ft
516 Colorado Ave
Angels Attic Museum
3200 ft
Gallery
Adamm s Stained Glass Art Glass Gallery
1.0 mi
1450 Ocean Ave Santa Monica
Santa monica beach
L.A.'s Iconic Lifeguard Towers
2200 ft
Museum
California Heritage Museum
3600 ft
Museum
Santa Monica History Museum
3800 ft
Gym
Bryan Kest's Power Yoga
2600 ft
Library
Santa Monica Public Library
4700 ft
Mall
Santa Monica Place
2400 ft
2215 Main Street
YogaWorks Main St
2100 ft
Harbour
Santa Monica Pier
1800 ft
Beach
Santa Monica State Beach
1300 ft
Aquarium
Santa Monica Pier Aquarium
1800 ft
1855 Main St
Santa Monica Civic Auditorium
1600 ft
2000 Ocean Ave
Crescent Bay Park
1700 ft
200 Santa Monica Pier
Santa Monica Looff Hippodrome
1800 ft
Ocean & Colorado Ave
Santa Monica Yacht Harbor Sign
1300 ft
Park
International Chess Park
1200 ft
Beach
Original Muscle Beach
1700 ft
330 Santa Monica Pier
Route 66 End of the Trail
1700 ft
Restaurant
Jimmy's Famous American Tavern
200 ft
Restaurant
Herringbone Santa Monica
600 ft
Restaurant
Bubba Gump Shrimp Co
2400 ft
Restaurant
Rakkan Ramen Santa Monica
800 ft
Restaurant
Coast Beach Cafe & Bar
1200 ft
Getting around
Airports
Los Angeles International

(LAX)
8.3 mi
Hollywood Burbank

(BUR)
23.0 mi
You can book a shuttle, once your reservation is complete.
Reviews of Le Merigot Santa Monica
Geoffrey

The staff went above and beyond to make us feel welcome. They gave great recommendations for what to do in the area and were always polite and helpful. The pool area was fantastic, with plenty of comfortable lounges and great views of the beach. We also loved the convenient location, which made it easy to explore the area.

The room was a bit small and cramped, which made it difficult to move around comfortably. Additionally, there wasn't quite enough storage space for our belongings, which made things a bit cluttered.

David

The free candy and complimentary champagne on Easter Sunday were nice touches, and the fact that the hotel was close to the beach and shops was convenient for exploring.

The room was not very clean and the staff were not very helpful. There was no ironing board in the room, and when we asked for one, we were told that housekeeping was closed and we would have to wait until the morning. The walls were also quite thin, and we could hear our neighbors talking late into the night. not a great experience for the price we paid.

Thomas

The hotel I stayed at exceeded my expectations in terms of customer service, cleanliness, and facilities. The staff was very friendly and accommodating, and they even considered my feedback during check-in, resulting in a room with a partial ocean view. Additionally, the hotel had great amenities such as the breakfast and transportation options, and it was conveniently located in the heart of the city, making it easy to explore the Santa Monica area.

Can't fault the property in any way.

James

This hotel has an excellent location, just a short walk away from the beach, with beautiful views of the ocean. The leisure facilities were top-notch, and the service was great too. The breakfast spread was delicious, and the rooms were clean, comfortable, and had great amenities like fluffy towels and fragrant toiletries.

The hotel's communication through email could use some improvement.

Simon

Friendly Staff, Great Location The staff members were amiable and helpful. The location was perfect; it was easy to get to the places that I needed to go. Additionally, I appreciated the complimentary breakfast and the free Wi-Fi.

Expensive Parking The parking cost was quite high, and I found it to be a bit unreasonable. However, the hotel's facilities were great, and my room was clean and comfortable.

missing

Great offer in general, incl. beautiful garden with swimming pool, plenty of space in the reception area and in the garden for sitting. Generous.

The hotel costs according to Internet corresponded only to the basic costs. In addition, Wifi came for a proud $12 a day, water in the room for $7 a bottle, parking $40, any other surcharge of $30 a day, etc.. I'm having trouble with this business practice.

missing

Super location with absolutely great view over Palm Springs. The hotel complex is beautifully landscaped, well-kept and spacious... Both pools are suitable for relaxing and cooling down.

missing

The view from the balcony to the pier.

missing

Close to all amemities. Have been too spoilt with beautiful Asian hotels and resorts and service.

Quite dated. Bathroom shower too dated.

missing

Great location , close o shops and great beach

missing

Big and comfortable room

The price is too high respect to what the hotel offers. WiFi was not included in the room price (they ask 14.99$), although Booked.net reservation said Yes; when i showed the print of my reservation they accepted to offer free WiFi connection. Water bottles (8$ each) are too expensives

missing

well designed: fun to be at. Clean; great staff!

of course a bit pricey for a room with no view what so ever.

missing

One can enjoy anything and everything outside the hotel because it is so close to everywhere.

It's an old looking hotel which mostly doesn't see the ocean view. Rooms are generally large however it's decoration, funitures are old and not clean.

missing

The location

There was some movie filming which was inconvenience There was a big machine working beside my room (215), and I could not sleep in my first night so I had to change my room to 325.

missing

faciities

prica and location
FAQ about Le Merigot Santa Monica
How far is the city center from the Le Merigot Santa Monica?
The Le Merigot Santa Monica is located in Santa Monica district in the very heart of Santa Monica.
Which landmarks should we visit during our stay in the fantastic 4-star Le Merigot?
Top-rated landmarks in Santa Monica include Abbot Kinney Boulevard as well as Airport Park, placed within 1.8 miles and 2.5 miles from the fantastic 4-star Le Merigot respectively. Ocean Park (0.7 miles) is also worth a visit.
Does Le Merigot Santa Monica have parking on site?
Yes, Le Merigot Santa Monica features a parking lot available on site.
What are our dining options during the stay in the Le Merigot Santa Monica?
The Le Merigot Santa Monica features 2 restaurants for on-site dining, among them American restaurant Cezanne featuring American cuisine as well as Le Troquet Patio, famous for its American menu. If you prefer to dine outside, don't miss a chance to taste dishes of American cuisine in café Cora's Coffee Shoppe located within a 5-minute stroll.
Does the Santa Monica resort serve breakfast?
The Santa Monica resort offers cooked-to-order and continental breakfast types, served daily in the dining room.
What is the timeframe for check-in and check-out in the hotel?
Guests of the hotel can check in from 4 PM to 11.59 PM and check out from 11 AM to 11 AM. Late check-out is also available upon request.
Which facilities are included in the rooms of the Le Merigot Santa Monica?
All rooms of the Le Merigot Santa Monica feature coffee and tea making facilities as well as a safe and smoke detectors, some of them boast private bathrooms along with sauna.
Is the staff at the Le Merigot multilingual?
Yes, the staff of the Le Merigot can assist you in English, German, Spanish and Russian.
What business facilities does the Le Merigot Santa Monica provide?
Yes, the Le Merigot Santa Monica comprises a meeting room and a business center equipped with a work desk and a photocopier.
Does the resort offer any rental services?
At the resort guests are offered to rent bikes.
Which facilities does the Le Merigot Santa Monica provide?
The Le Merigot Santa Monica includes such facilities as an ATM and an elevator, whereas guests' safety will be ensured with a safe deposit box and fire extinguishers.
What are the spa options at the Le Merigot Santa Monica?
At a wellness center and full spa featured at the Le Merigot Santa Monica guests can receive such spa treatments as facials and body treatments. Additionally, a solarium, sauna facilities and Turkish bath are offered on-site.